One of the few things I dislike about living in the Bay Area is that Christmas time never really seems to have quite the same punch and magic here as is described by non-classical Christmas songs. Perhaps it is the preponderance of Godless heathens clustered together or maybe it's just age and an accompanying cynicism puncturing the delight of innocent, youthful greed but honestly I think it boils down to the lack of relatively inclement weather. With the relatively mild winter of coastal California, there seems to be less of an obvious requirement to stay indoors, avoid roads and thus dedicate time to cozy firesides and spiked nogs and craft projects.
Or whatever that means. I don't know why craft projects remind me of Christmas spirit, but there you are. The point is it seems like the—at worst—inconvenient annoyance of Bay Area December weather isn't sufficient to prevent the season from descending into commercialized excess of gaudy strip malls and Black Friday sales. So I was feeling kind of glum about the season in general, wishing impotently that I could demonstrate to my 16-month old daughter that Christmas was more than just counting boxes under the tree.
Then Nik somehow heard about this event in downtown San Jose called Christmas in the Park, held in the small public space between the Tech Museum, the Art Museum and tons of high-rise office buildings and even higher-priced restaurants. The plan was to pick me up from work and grab some dinner before we took Callie over there. As I tend to do when Nik suggests family activities I shrugged and said, "Sure, sounds fun." I'm trying to make these words mean something other than "Okay: I probably won't hate it," although I do better some days with that than others.
We actually tried to go earlier when a work issue resulted in me having to stay later than usual and miss my shuttle so Nik drove out to pick me up and we thought we might go after that, but by the time I was done and Nik had a chance to make it to my office and we fought through rush hour traffic on 101 South it was approaching 6:30. Given an hour for dinner and we'd be arriving when Callie's bedtime routine typically begins and it seemed like less than responsible parenting to keep her up hours just to take advantage of an unexpected car trip. So we made arrangements to do as we originally intended and went on Thursday after I got off work (at the normal time). We had dinner at a retro themed diner which I thought was excellent but Nik was quite unimpressed by and then crossed the street again to check out the spread which we had only seen in passing on our way in.
The marvelous thing about Christmas in the Park is that it's donation-run so admission is completely free. The bulk of the set up is a series of donated Christmas trees decorated by local groups. As you might predict a huge number of these end up being Boy and Girl Scout troops, but that's actually fine and many of them were very cleverly put together. Around the perimeter of the park are a series of dioramas, some fairly elaborate with mechanical bits and musical accompaniment, which depict whimsical scenes that are very kid-friendly: Silly elves, friendly looking woodland creatures and so forth.  Because Nik didn't care for dinner she stopped and got a snack to munch on while we perused the aisles of trees and displays.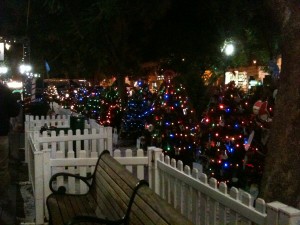 Throughout this initial sequence Calliope seemed a little overwhelmed: Her eyes were as big and round as saucers but she didn't seem to react much to anything. I'm not sure if the lights were too much or if it was packed too tightly into the space for her little mind to process, but while I wouldn't describe her as having anything but a good time it was as if she didn't quite know what to make of it all.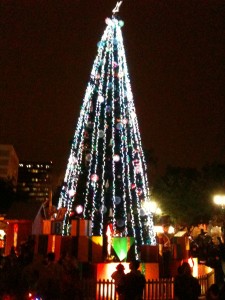 By the time we reached the center of the park where they had erected a huge display tree out of light strings Callie seemed to be appreciating what was going on a little more. She got excited about a teddy bear statue that was under the tree and offered to share bites of her gummy churro with passing strangers. Just to one side of the big tree they has set up a gazeebo and stage with some benches in front and a horn ensemble was playing brassy renditions of popular Christmas tunes. For the first time that I can recall, despite being exposed almost daily to a variety of musical stylings via iPod and radio, she lit up about the band and got this huge grin on her face as they bleated their way through "Frosty the Snowman" and "Carol of the Bells" and others. We sat and watched them play through three or four songs and then moved on to keep Callie from getting bored.
Just behind the stage they had set up a snow-maker using soap bubbles and Nik bravely carried Callie into the shower where she laughed and squealed while the shower of suds swirled through the night sky. They were both fairly covered in soap by the time the shower stopped (it seemed to be set to "snow" in about three minute intervals) and Callie was so delighted she made Nik stand through another storm. It was very cool to see her getting so excited, enough that Nik and I wondered afterward if she might enjoy a trip to the actual snow.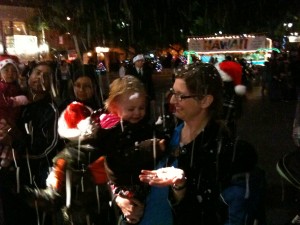 In the center of the park was a sort of gift shop/visitor's center, and Nik poked her head in to see if there was a map or a listing perhaps of all the groups that had donated a tree (she seemed to get into her head that the San Jose Sharks should have made a tree and was fairly convinced there was a Sharks tree we just weren't able to find). I guess they didn't have anything like that but she did emerge with a set of jingle bells that had been a display. Apparently she'd had to talk the cashiers into selling it to her. To understand why she went to extremes to buy some bells, I should mention that we had tried the previous week to take Calliope to get her picture taken with Santa in the mall. We did it last year and the pictures came out pretty well (in spite of a diaper incident that resulted in a last minute outfit change) so we figured it would be a kind of tradition. But this year when Nik went to hand Callie to Santa she flipped out and wouldn't relax until Nik agreed to hold her in the pictures. Needless to say none of them came out well and we didn't really want to fight her on it so we left empty-handed excepting a little jingle bell on a red string.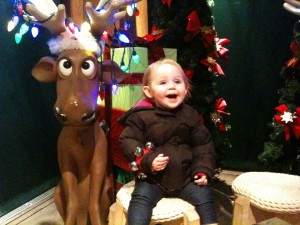 I can't explain why but Callie absolutely fell in love with that cheesy little bell and held it and jingled it and played with it until it basically disintegrated. I guess the free bell was worth the waste of time standing in the line but Nik felt bad that it hadn't held up so she was willing to really make it happen with this new set of bells. I velcroed the new bells onto Callie's arm and she shook them enthusiastically for the remainder of our visit to the park, boldly announcing her presence, though at least in a very seasonally appropriate manner.
At the far end of the park they do in fact have a structure set up with your typical Santa/picture ordeal and I think this was ultimately Nik's aim, to get a re-try on the Santa thing. I confess I don't really have the Santa-picture nostalgia she does and there is something rather unnerving to me about what amounts to having our child pose with a disguised stranger so I wasn't really all that thrilled about the notion of another epic line which ended at best with an expensive and poorly compressed digital photo printout and at worst another meltdown so I may have steered us toward skipping the Santa house. Fortunately while our winter is nothing like the ones depicted in song and verse, it was pretty cold for this old California native and I hadn't really prepared with sufficient layers so I suggested we check out the Nutcracker display and then start making our way home. Fortunately for me it was already well past the little one's bedtime and Nik was tired and hungry enough not to put up a fight.
As we drove home I marveled at the joy that was etched onto my daughter's face the whole night. It occurred to me that she didn't really need to have the marvel of Christmas explained in great detail to her, she felt the magic simply by viewing the spectacle through fresh eyes: The sweet refrains of carols heralding Jesus' arrival on Earth, the festive glow of brightly colored lights everywhere, the focused attention on whimsical fairy tales like elves and flying sleighs. To her it seemed so vibrant and exciting, just by its nature. Sure, she'll probably be beside herself when Christmas morning comes as well, buried under a mound of loot and the thrill of getting will begin the slow descent into and/or lifelong struggle against consumerism and greed, but for now she's just as likely to be enchanted by the bright paper, silky bows and fort-friendly boxes as any amount of toys within, a testament to the innocence of her delight with the whole charade.
Reflecting on this I realized that maybe at some point I just outgrew Christmas, but for me the vicarious experience of watching the season work its way into my daughter's heart was softening this crusty old shell of angst and… what was that I felt there for a moment? The thirst for egg nog and a refrain from the Nutcracker buzzing in a hum in the back of my throat; it felt suspiciously like Christmas spirit again. I guess I didn't need postcard-friendly winter landscapes or manufactured nostalgia after all, just the perspective of a receptive little girl who seems to be teaching her daddy more than he's taught her.
Merry Christmas, everyone.